Mr. Graré is a busy man. A very busy man. He spends much of his time on the road, en route to business partners and clients, attending trade fairs and speaking at conferences. Before joining Lhyfe in 2020, he worked for the likes of Sony, LG Electronics, REC, SolarPower Europe, and Nel. He is a seasoned business developer and someone hard to get a hold of. We met with him in Bouin, a commune in the Vendée department in the Pays de la Loire region in western France, on the Atlantic coast, about an hour drive from Lhyfe's headquarters in Nantes.
Until recently, Bouin was best known for delicious oysters, but a modest industrial facility erected last year has put the town – and Lhyfe – on the global map. In September 2021, Bouin became home to the world's first green hydrogen production plant with a direct link to a wind farm and seawater supplies for electrolysis. With a production capacity of 750 kW, the facility currently produces around 300 kg of green hydrogen per day. This is expected to increase to 2.5 MW by 2023 (around one tonne per day) to meet growing demand.
"This plant serves as a proof of concept to us," begins Mr. Graré. "It allows us to test the system design developed from scratch by our engineers as well as to work out how best to supply hydrogen to end users. This is an entirely new field. There is no book on how to make and sell green hydrogen. You can have a great idea about how to do it but doing it every day is quite a different thing. This plant allows us to write such a book by ourselves, page by page, every day another one."
Decarbonising mobility and industry
The green hydrogen produced in Bouin is supplied directly to public and private clients from the local mobility sector, including a refuelling station for heavy vehicles (buses, household waste trucks, service trucks) in La Roche-sur-Yon, and Lidl's logistics hub in Carquefou, 75 km from Bouin.
"We see a lot of potential for hydrogen in the mobility sector, especially in heavy duty vehicles," explains Mr. Graré. "There are many OEMs developing new concepts of hydrogen-powered trucks, and they could change the truck industry just like Tesla changed the car industry. The only other clean alternative to fossil fuels are lithium-ion batteries, but that adds 5–6 tonnes of weight to the vehicle, which is massive compared to a hydrogen tank weighing 80 kg. So, there is a very clear rationale for transitioning to hydrogen fuel cell heavy vehicles, including buses.
"The European network of hydrogen refuelling stations is expanding fast, but almost all of the hydrogen currently available is grey, which is dirtier than the natural gas from which it is derived," continues Mr. Graré. "For companies with credible decarbonisation strategies, grey hydrogen is not an option, and this is where Lhyfe comes in, as a producer of renewable hydrogen supplied directly to the market. True, there are already a handful of operational green hydrogen production plants in Europe that are larger than this one here in Bouin, but most of them produce hydrogen for in-house industrial processes, some of them to refine petrochemicals. While it would go entirely against our principles to supply green hydrogen for such purposes, we see hard-to-abate industries such as steel, glass, and chemicals as our primary clients, along with the mobility sector."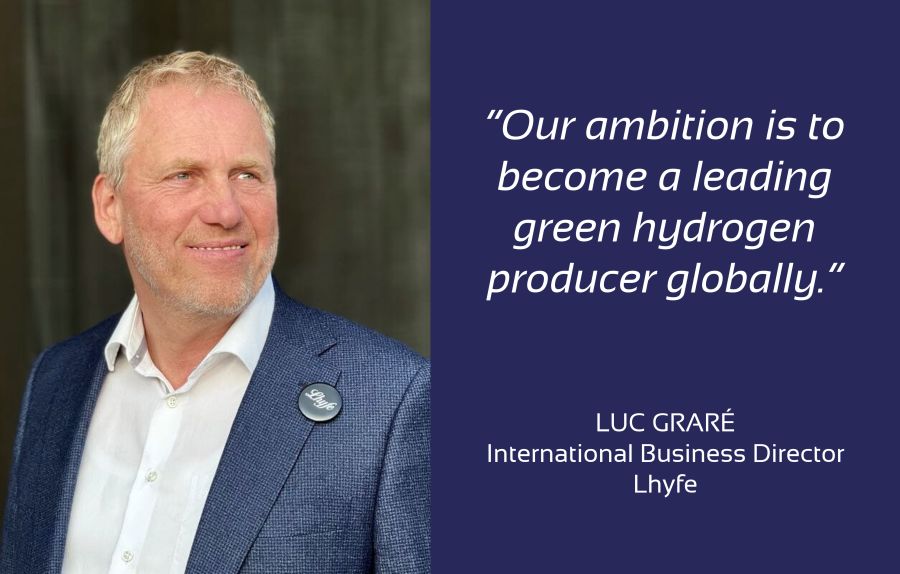 Command over the entire value chain
As a proof of concept, the Bouin facility has allowed Lhyfe to develop and test an integrated model that covers all its operations and provides full control over the efficiency and costs of the industrial process. This includes project development (origination, permits, design, project engineering), construction (finance, engineering, and project management), operation (green hydrogen production, storage, and facility maintenance), and sales.
Linked directly to a wind farm a few hundred metres from the production site, the Bouin plant consists of multiple individual components, including, among others, a seawater desalination unit, a rectifier, an electrolyzer stack, gas separators, a hydrogen purification unit, a compressor, piping, valves, instrumentation, and a tube trailer filling station. While all these components can be purchased from various suppliers, integrating them into a smoothly operating system is far from being straightforward.
"Building an electrolyzer is nothing like building a solar PV farm," says Mr. Graré. "In the solar PV business, it is easy to get quotations from a dozen different construction companies, which say: we can build the plant, this is what it costs, all you have to do is make a couple of choices. This kind of luxury is simply not available in our business, so we decided to develop and build up all the necessary expertise by ourselves. When I joined Lhyfe in July 2020, we were a team of 15 people. Today, we have nearly 100 employees, about a third of whom are engineers capable of designing a green hydrogen production plant based on electrolysis. And in the coming years, we will need more engineers, many more!
"It is these in-house competencies what gives us a competitive edge and what enables us to bring the cost of green hydrogen down as much as possible. To be sure, there are some oil & gas and industrial gas companies that design electrolyzerers, but their services don't come cheaply. Also, when I worked for Nel, I saw big energy companies requesting quotations for all the equipment required to build a green a hydrogen production plant. As we know, Nel specialises in making electrolyzer stacks, so they have to buy all other components from partner companies. Of course, they can buy a compressor for you, but that will come with a margin for their service. To avoid such extra costs and keep capex to a minimum, we procure all the components directly from suppliers. And on top of that, we use our own proprietary software for all aspects of system management, optimisation, and analytics. Since we have developed all the capabilities required to keep the whole supply chain process under our control entirely by ourselves, we apply them only to our own plants. Why? Because or business model is based on the sale of green hydrogen produced by assets wholly or majority owned by Lhyfe."
Electrolyzer technology selection
In Bouin, hydrogen is produced via an alkaline electrolyzer and compressed to 380 bar for storage in cylinders. However, Lhyfe's expertise spans all mature electrolyzer technologies, including proton exchange membrane (PEM), alkaline, and pressurized alkaline. So, what is the primary criterion in electrolyzer technology selection?
"Some people may think that it is the efficiency or speed of the electrolyzer, but for us hydrogen pressure requirements and the speed of the compressor are the main factors," explains Mr. Graré. "You can have the fastest electrolyzer, but that is of little value if your compressor is slow, creating a bottleneck. Therefore, for certain industrial applications where a pressure of only 10–15 bar is required and on-site hydrogen production possible, pressurised hydrogen production is the most optimal solution. Typically, a PEM electrolyzer is selected for such applications, but pressurised alkaline technology is also an option. This eliminates the need for a compressor, which has several advantages. The compressor is the most maintenance-intensive piece of equipment, so leaving it out of the plant design significantly reduces operating costs. Add to this energy savings as well a significant reduction in noise levels and you will quickly appreciate why end-use pressure requirements for specific hydrogen applications are such an important consideration when specifying the electrolyzer technology."
Electricity costs and other challenges
When asked about risks or challenges to a rapid scale-up of global green hydrogen production, Mr. Graré sounds no alarms but does mention three areas of concern: electricity costs, supply of electrolyzer stacks, and legislation governing the operations of green hydrogen facilities in certain countries.
"Electricity accounts for about 80% of the cost of green hydrogen, so the current spike in electricity prices is definitely a concern," says Mr. Graré. "We rely on three- to 15-year power purchase agreements (PPAs) with renewables producers and favour a direct connection to wind and solar farms, where possible. Luckily, we signed a PPA for this plant in Bouin before the current energy crisis. Elevated electricity prices, however, do not give grey hydrogen a competitive advantage as they are driven by natural gas prices from which grey hydrogen is made. And the cost of renewable energy is more likely to return to the previous levels than that of natural gas, so green hydrogen is the obvious way forward, not only for the environment, but also economically.
"Another challenge could be the enormous growing demand for electrolyzer stacks. Getting a quotation from an electrolyzer manufacturer can be quite difficult these days, which is certainly not helpful. And finally, some countries have legislation in place that limits the number of hours that an electrolyzer can operate annually. In Germany, for example, this limit has been set at 5,000 hours. This is a bit awkward, because on the one hand companies like Lhyfe are encouraged to invest in new green hydrogen production plants, but on the other hand we are allowed to run them only at 57% capacity."
Next milestone: going offshore
Since its inception in 2017 by Matthieu Guesné, then head of CEA Tech Pays de la Loire et Bretagne, Lhyfe has had a vision to produce green hydrogen at sea, since offshore winds is the most abundant, powerful, least intermittent, and therefore the most competitive source of renewable energy. Following five years of R&D, this vision is now being realised, setting yet another milestone.
"In September 2022, we will be the first company in the world to start an offshore green hydrogen production pilot, years ahead of other such projects currently planned," proudly states Mr. Graré. "This will be a floating 1 MW PEM electrolyzer connected to a floating wind farm about 26 km off the coast of Saint-Nazaire. Just like the Bouin plant, this will be a proof of concept for us, allowing us to test and learn what it means to produce hydrogen on the sea, what is the impact on the materials, etc.
"But our ambition is much higher," he continues. "Clearly, our future offshore production facilities will have a much higher capacity, but we also hope to make use of existing offshore infrastructure. More specifically, we plan to repurpose retired oil and gas platforms by keeping the existing jacket and replacing the topside with a new one, which will be a complete green hydrogen production facility, three floors high. This will enable us to connect directly to an offshore wind turbine park far away from the shore. Electrical cables are a bottleneck for offshore wind capacity, so using the electricity to produce hydrogen is a great option. And in the North Sea, for instance, especially in the Netherlands, there is an extensive network of oil and gas pipes that are no longer in use. Just like retired platforms, they can be repurposed for hydrogen and used to bring the hydrogen to the shore, from where it can be fed into the hydrogen backbone. This is our vision and our desired contribution to the independence of Europe's energy supply."
From a start-up to a 'hydrogen major'
Within just five years of its existence, Lhyfe has grown from a French start-up to an international enterprise with global ambition. Multiple funding rounds, including a recent IPO, have allowed the company to rapidly develop its expertise and establish itself as a credible and trustworthy partner. This is reflected in its current pipeline of 93 projects, 20 of which are at an advanced stage of development (in 'Tender ready', 'Awarded' or 'Construction' phases) and together represent 380.5 MW of total installed capacity that is expected to become operational by 2026.
"The smallest project we are currently developing has a capacity of 5 MW, with others going up to 20 MW, explains Mr. Graré. "By 2025, we will be able to deliver green hydrogen in every corner of France, Germany, the Netherlands, Belgium, and Denmark. That will be reasonable amounts of green hydrogen, most of which will be supplied to customers by tube trailers, and some produced on-site for industries such as steel or glass. After 2025, when we expect the hydrogen backbone to start coming into operation in countries such as Germany and the Netherlands, we will be building much bigger plants, upwards of 200 MW in capacity, near this backbone and in close proximity to renewable energy farms.
"Ultimately, our ambition is to become a leading green hydrogen producer globally and maybe even to become seen as a system company. In the past, it took about 50 years for energy companies like Shell or RWE to become system companies, but today this is possible to achieve much faster. Google needed 20 years and Facebook 10 years. Perhaps Lhyfe can become a system company even faster," concludes Mr. Graré.