China's northwestern Ningxia Hui Autonomous Region and Zhangjiakou of Hebei province border on a rich land with verdant resources that also offer abundant potential for renewable energy. These critical ecological regions are where the engineering, procurement, and construction (EPC) company HOTO, with its 17 years' professional experience in the energy and chemical industries, has recently jump-started its exploration of green hydrogen's potential. Starting in 2019, Mr. Du's team has worked on multiple projects, including Baofeng Energy's green hydrogen project featuring a 150 MW electrolyzer – currently the world's largest, and Shell China's 20 MW power-to-hydrogen electrolyzer, the largest in its portfolio to date.
In the application of alkaline water electrolysis, the Baofeng project is powered by a 200 MW solar array and is capable of producing 160 million cubic meters of hydrogen annually, while the latter utilized onshore wind power and successfully supplied green hydrogen to fuel a fleet of more than 600 fuel cell vehicles at the Zhangjiakou competition zone during the 2022 Beijing Winter Olympic Games. The hydrogen refueling stations in Zhangjiakou are currently used for public and commercial transport in the Beijing-Tianjin-Hebei region.
"These records will be short-lived," says Mr. Du and points out that with the fast-tracked development of green hydrogen projects, China and EPC companies will soon see new record-breaking milestones in hydrogen projects in terms of production capability, scalability, and efficiency.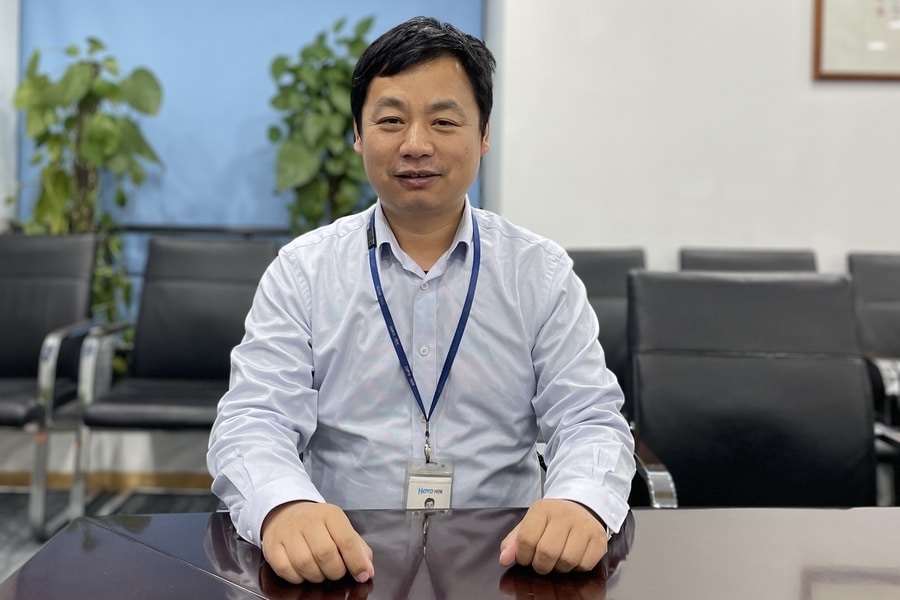 It was not until recently that Chinese EPC companies started to provide engineering solutions to the green hydrogen sector, so industry standards are still being formulated.
"Both projects were undeniably challenging for our engineering team," says Mr. Du. "The Baofeng Energy project was a green hydrogen debut for our team, and setting up a production capacity of 1,000 Nm3 per hour was simply unprecedented, not just for us, but for our end user, suppliers, and vendors, too. At the time, no one knew how to conduct such a large-scale project." The industry lacked matched industry codes back in 2019, not to mention that the whole brand-new process design of electrolyzers, water-gas-shift reaction, hydrogen purification, compression, and storage were critical to the project's success. In such cases, even a normal construction detail could present serious challenges.
When designing the hydrogen stations, Mr. Du's team concerned itself with issues like fire safety but discovered that the state's design code for hydrogen stations, GB 50177-2005, did not include specification information for spacing distance between two hydrogen manufacturing workshop housings.
"It was nothing like those well-developed and traditional sectors whose design codes are crystal clear and verified by practices," says Mr. Du. "In fact, it's very much the opposite scenario where EPC companies play the role of leading all suppliers and vendors to explore together a practical approach in green hydrogen projects, which eventually can result in new industry standards."
To come up with a completely safe, energy-efficient, and cost-effective engineering proposal, Mr. Du's team spent more than half a year on research, consultation, and location scouting, which is an unconventionally large time investment. It was after communicating with the end user and suppliers that the engineering team devised solutions to fill in the gap of a missing design code. And it was only after many revisions that the engineering proposal was finally ready for execution.
Out of over 33 million tonnes of hydrogen produced in China each year, only 3% of hydrogen is produced through electrolysis. Most of China's hydrogen comes from coal and natural gas, with the rest mainly derived as a by-product from industrial processes, statistics show. Thanks to government incentives over the past few years, the green hydrogen hype has been providing strong momentum for investing in electrolysis technology and manufacturing. According to BloombergNEF predictions, by the end of 2022, the China electrolyzer market will account for 62–66% of the 1.8–2.5 GW of global demand.
Of the three main electrolysis technologies – alkaline water electrolysis (AWE), polymer electrolyte membrane electrolysis (PEM), and solid oxide electrolysis (SOEC), the majority of the electrolyzer applications in the Chinese market are AWE.
"Although PEM electrolysis has many advantages such as high current density, high efficiency and fast response, we had to choose the AWE technology for both projects for reasons of capital cost, scalability, and production capability," explains Mr. Du. "As far as we learned, the maximum production capability of a domestic PEM electrolyzer is about 200 Nm3 per hour, and its cost reduction is critical."
Chinese manufacturers of PEM electrolyzers are relatively less developed, but this landscape might be changing with local governments' recent decisions. In places such as Shanghai, Tianjin, Shandong, and Guangdong, governments have rolled out policies to make breakthroughs in the manufacture of PEM electrolyzer components including bipolar plates, gas diffusion layers, membrane electrode assemblies. A growing number of power-to-gas initiatives have selected the PEM technology, local media report.
In terms of what HOTO values most in Chinese AWE manufacturers' capabilities, Mr. Du's team assesses supplier candidates through various aspects. In addition to electrolyzer efficiency, production capability, capital cost, and operational stability, there is one more vital factor required under the pressure of this quickly developing sector. Mr. Du says that the team learned that green hydrogen projects can be on tight schedules, and they must ensure in-time commissioning, making suppliers' delivery efficiency critical.
Unlocking the power of renewables
For Mr. Du, integrating these intermittent renewable energy sources with the grid was one of the biggest technical challenges to providing engineering solutions to green hydrogen projects, but not insurmountable. As intermittent renewables, wind and solar do not produce energy around the clock and can easily disrupt the conventional operation of the electric grid. To avoid a blackout or other cascading problems, the grid, which has very little storage capacity, must maintain a balance between electricity supply and demand at all times.
Aside from applying common energy storage technologies as a key solution, Mr. Du's team has also used a smart energy management software platform to predict electricity generation ahead of time based on weather conditions and to adjust power consumed by water electrolysis to mitigate power fluctuations from renewable energy sources.
Mr. Du's team also sought the most sensible development methods, emphasizing the awareness of 'whole process thinking' with every supplier during the manufacturing process of water electrolysis, hydrogen purification, storage, and gas filling equipment and components.
"Instead of just caring about how to manufacture a single machine, we encouraged them to draw technical connections between their products across the whole process to enhance operational flexibility, while fully understanding the nature of intermittent renewables," says Mr. Du. "All these inputs were formulated in documents, which provided agile solutions for urgent situations, for example, quick boots under different temperatures."
Backed by China's supply chain
China has targeted raising green hydrogen production to 100–200 thousand tonnes per year and to operate 50 thousand hydrogen-fueled vehicles by 2025, according to a recent plan unveiled by the National Development and Reform Commission (NDRC) in March 2022. Meanwhile, the China Hydrogen Alliance has estimated that China's hydrogen demand will rise from 20 million tonnes per year currently to 35 million tonnes by 2030.
This means that in the coming years, the nation will experience an explosive growth in the green hydrogen market, with an increasing number of Chinese manufacturing players joining the race.
Based on the two successful domestic hydrogen projects that HOTO pioneered, Mr. Du shared his insights into China's supply chain in the green hydrogen sector. From electrolyzers and purifiers to storage tanks, his team used products made by Chinese manufacturers. This was quite a new experience for them because, when the team started working in traditional sectors like the refinery and chemical industries a decade ago, many of the core component products were imported.
It is only in recent years that made-in-China products have become competitive and substituted imported products in traditional sectors. "When it comes to producing, storing and shipping green hydrogen, the domestic manufacturing capability, from the starting point, is competitive to other developed countries," says Mr. Du. "But there is a gap that is worth taking efforts to fill."
As an experienced engineer and project supervisor, Mr. Du, together with his team, has been in demand not just in China but in global markets. HOTO has undertaken EPC projects in 11 overseas countries including Russia, Kazakhstan, Kyrgyzstan, Philippines, Singapore, Pakistan, India, Indonesia, Malaysia, Iraq, and Ghana. While serving disparate international clients such as Shell and ExxonMobil and communicating with many end users and suppliers with different language and cultural backgrounds, for Mr. Du, the importance of sharing one standard communication approach became apparent. It was a hurdle to overcome in presenting Chinese suppliers to international end users.
"It is the difference between objective and subjective thinking that can make communication challenging," Mr. Du emphasizes. "These end users rely more on data records, analysis of charts and statistics output as the most important indicators to assess a product, while Chinese local manufacturers are not used to presenting full and accurate specification information but rather emphasize lessons learned from practices."
The need to adapt local suppliers' communication approaches to international expectations is more critical than ever. Nowadays, with the promising development in the global hydrogen sector, some competitive Chinese manufacturers aspire for their products to be applied in overseas markets. Mr. Du says that the ability of local manufacturers to adopt a fact-based communication approach has become an important factor when his team makes decisions during procurement processes.
Meanwhile, Mr. Du is actively encouraging international end users interested in doing projects in China always to pay a visit to potential partners and check things out for real, because "good communication is the best start of every collaboration."
Mr. Du leads a 400-person engineering team at Shanghai Hoto Engineering Inc. He started his career as an engineering consultant and then senior engineer at AspenTech, a U.S.-based company that specializes in providing process simulation software to the chemical industry. During his nine years of working at HOTO, he attained several promotions, from industrial engineer to project manager and to his current role as vice president. Prior to large-scale green hydrogen projects, his team applied their experience in fluidized bed, hydrotreating, refinery, furnace, and chemical projects.