Driven by the entrepreneurial spirit and passion for innovation and excellence of its founder, Gottfried Müller, the müller coax group has positioned itself as a reliable and trusted partner internationally. With thousands of valve variations and designs, the company can handle virtually every kind of technical challenge – across industries, media, and applications. This includes valves for hydrogen service at both cryogenic and elevated temperatures as well as high pressure. The combined product portfolio of coax, quadax, and m-tech – the group's three major brands – addresses the needs of the entire hydrogen value chain, including hydrogen production, storage, transport, refuelling, test rigs, and applications in industry.
"In recent years, hydrogen has become a megatrand, but for us hydrogen is nothing new," explains Antonio Erriu, Managing Director of müller coax. "Over the last few decades, we have manufactured and delivered thousands of valves for hydrogen service in many different applications, providing us with extensive experience and track record. Being a highly flammable gas, hydrogen calls for zero-leakage valves. We have a wealth of demonstrated experience in this field, and that is exactly what most customers are looking for."
Benefits of coaxial design
Enshrined in its name, the coaxial valve forms part of the company's core identity. The unique design of the coaxial valve has many advantages over conventional valves, most notably complete pressure balance. "The coaxial design keeps forces within the valve balanced regardless of system and differential pressures," explains Mr. Erriu. "This allows fast, repeatable operation in less than 30 milliseconds, which makes coaxial valves some of the fastest available in the market. Having only a single moving part, coaxial valves are also virtually maintenance-free and have up to 10 times longer lifetimes than conventional valves. What is more, complete pressure balance means that the force required to actuate the valve is always the same, regardless of the pressure in the line. And this in turn means that the valve size does not have to be increased for higher pressures, keeping both the valve body and actuator very compact. All these features make the coaxial valve extremely adaptable and suited to a wide range of applications, including water electrolysis, hydrogen storage, refuelling stations, fuel cells, gas turbines, and test benches. Our customers also come from industries where hydrogen is used as a fuel or feedstock. So, coax valves measuring from one millimetre to 10 inch in diameter can be used wherever hydrogen is handled, providing 100% tightness and requiring practically no maintenance. Our motto is simple: install it, forget it."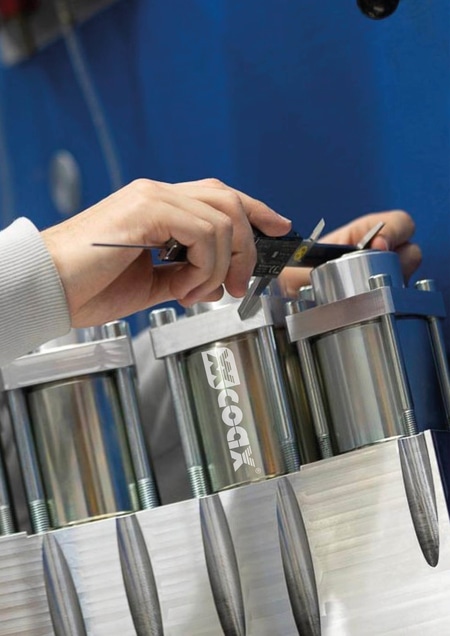 The genesis of coaxiality
Before establishing the company known today as müller coax, Gottfried Müller worked at Hornschuch AG in Weissbach. At his parents' wine tavern in Stuttgart, he met employees from what was formerly known as Daimler-Benz AG. They complained that the valves used for the supply of coolant were failing to keep up with the ever-growing pressure in system technology. Although Gottfried Müller had no experience with valves, he set out to develop a solution and came up with an idea. He named his invention 'coaxiality' – the technical term used to describe two round bodies lying on the same axis. In 1970, his coaxial valves were presented for the first time at the Hannover Trade Fair. It was a technical revolution!
To store hydrogen in meaningful amounts, hydrogen gas must be either compressed or liquefied. Addressing the high-pressure segment within the müller coax group is m-tech. Launched in 1990s as a brand of müller coax and spun off as the group's subsidiary in 2000, m-tech designs and manufacturers tailor-made solutions for high-pressure gas and cryogenic applications. Initially, m-tech focused on the design and manufacture of valves for gas cylinder filling up to 300 bars, but over the years its product range and expertise have grown tremendously.
"Today, our company provides complete solutions for the filling of industrial, medicinal, and special gases," explains Carlos Riveros, Managing Director of m-tech. "Besides high-performance valves for cryogenic and gas filling applications (cylinders, tube trailers, refuelling stations and other gas storage), we supply our global clients with complete skids for both mono and mixed gases. We make all individual components in-house and provide complete maintenance service to our clients, making m-tech a one-stop shop for gas filling solutions. Our valves are designed for operating pressures up to 600 bar, and we are currently working on valves for pressures up to 1,000 bar specifically for hydrogen applications, thereby developing a valve product portfolio capable of meeting all pressure requirements for compressed hydrogen storage."
quadax for extreme conditions
Following in the successful footsteps of m-tech, müller quadax started as a brand of müller coax in 2009 and has been operating as its subsidiary since 2017. müller quadax specialises in the design and manufacture of butterfly valves capable of withstanding the harshest of temperature conditions, from -270°C to +800°C. Among its first customers were the industrial gas giants Air Liquide and Linde, soon to be followed by companies from all corners of industry, including the highly conservative and virtually impenetrable aerospace sector where safety and performance requirements associated with the handling of liquid hydrogen are of the highest order.
Patrick Hofacker, Managing Director of müller quadax, sees multiple reasons for this skyrocketing success. "Thanks to the 4-offset design, the quadax butterfly valves meet the highest tightness demands, which is a critical requirement in the hydrogen sector. Compared to the more conventional 3-offset design, our unique design solution results in a rounder and thus larger sealing seat, which means maximum tightness, zero friction, and in turn very low maintenance. Combined with our cutting-edge production technology, tireless testing, and engineering expertise, it allows us to produce outstanding valves for both cryogenic and high-temperature applications. This is also reflected in our slogan: MADE FOR THE EXXTREME.
"In the medium to long term, the demand for liquid hydrogen is likely to rise steeply, so we see a lot of growth potential for quadax in this market. We are perfectly positioned to increase our presence in the hydrogen sector and will continue working tirelessly to remain at the top of our game."
Since its foundation, the müller coax group has placed great value on manufacturing its products in close collaboration with customers. In the case of coax valves, for instance, there are essentially no standard products since all their valves are designed and manufactured according to customers' specific requirements. To them, no two products are the same. Their development and manufacturing process meets the highest quality standards – starting with product development and the selection of raw materials, to minimum tolerances in production all the way to the final product testing on specially designed test benches. Their step-by-step quality control is certified according to DIN EN ISO 9001:2015 and PED 2014/68/E.
Local production, global distribution
Proud of their origins and heritage, the company is firmly based in Forchtenberg, Baden-Württemberg, where 70 % of all production parts are manufactured, with the remainder made elsewhere in Germany. Hence the label 'Made in Fochtenberg'. From there, coax, quadax and m-tech valves are distributed globally, thanks to eight subsidiaries, presence in 44 countries on five continents, and cooperation with more than 30 distribution partners.
Physical expansion for further growth
Next to the group's headquarters in Forchtenberg, the construction of müller quadax's new home is in full swing. Once completed, the building will triple the company's current footprint. In addition to new office space, it will house an assembly hall approximately 3,000 m2 in size and ten metres high. Equipped with state-of-the-art conveyor, testing, and paint booth technologies, the new facility will help the company optimise its intralogistics and improve workflows, thereby increasing process efficiency and in turn reducing the already short delivery times. The sales team is expected to move into the new building shortly, while the completion of the assembly hall is scheduled for spring 2023. After that, the group plans to invest in the expansion of the müller coax facilities, thus paving the way for further growth.
World Market Leader Champion
In recognition of its innovative products and commitment to the highest of industry standards, the müller coax group has recently been named World Market Leader Champion – a title awarded to companies selected for inclusion in the World Market Index. Compiled by the Wirtschaftswoche financial magazine, the University of St. Gallen, and the Academy of World Market Leaders, this Champions League of the German economy includes companies selected according to strict, scientifically verified, and transparent criteria. The müller coax group impressed the selection panel as an owner-managed company that values quality and constantly sets new standards by developing innovative valve solutions for a wide range of media and industrial applications.